THE ONLY LADDER YOU WILL EVER NEED!
LIMITED QUANTITIES
NEW! KEVLAR TELESCOPIC LADDER
Introducing the ONLY NON-CONDUCTIVE KEVLAR TELESCOPIC LADDER IN THE WORLD!
Non-Conductive, with wide step rungs for added safety. Fully automatic operation with silicone pivoting feet for a safe grip.
NOW AVAILABLE IN CANADA!
Order Yours Today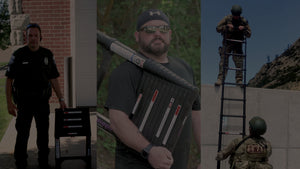 TELESTEPS TELESCOPIC LADDERS
Telesteps ladders, a revolutionary breakthrough in ladder design and technology. Telesteps ladders are EASY TO CARRY, EASY TO USE, EASY TO STORE and are used in many channels: Construction, Solar, RV, Law Enforcement/Tactical, Military, Government Agencies, Homeowners, Inspectors, Safety, Security, Farm/Ag, Building Maintenance, Hunters, Industrial, Installers, Pest Control and many more.
TELESTEPS COMBI 612TC
MULTIPLE LADDERS IN ONE LADDER
The perfect ladder for Professionals that need to get the job done!
VIEW THE COLLECTION
THE TELESTEPS DIFFERENCE
EASY TO USE, EASY TO CARRY, EASY TO STORE!
PATENTED
ONE-TOUCH RELEASE
Once the ladder is locked in place, you can quickly and easily pinch the One Touch Release Buttons that will slowly lower the rungs back to it's original compact size. No physical tug of war, no use of tools…just a simple squeeze, to lower your ladder with ease!
SAFETY
INDICATOR WINDOWS
We take your safety seriously, and with the safety indicator window feature, we trust you'll feel more comfortable with each step you take. RED means do not climb and GREEN indicates that it is safe to climb. Safety is paramount with everything we do.
STRONG
AIRCRAFT GRADE ALUMINUM
Telesteps Telescopic Ladders are made from aircraft grade aluminum and pass through strict quality tests before they are packaged and shipped. Quality and safety are paramount in everything we do.
INTRODUCING
TELESTEPS TACTICAL
BIG When you need it, small when you don't!
Testimonials
"I absolutely LOVE my Telesteps ladder! It's the strongest, greatest telescopic ladder I've ever used. Other ladders would pinch your fingers but this ladder is sooo smooth that it never happens!"

John Hewson, New Horizon Carpentry
I got my hands on a Telesteps Extension ladder a couple months back.  What a fantastic ladder!  For something that is so compact, it is so sturdy when you have fully extended.   I use it whenever and wherever I can, from getting into the attic, to up on the roof, or anywhere I need to get up high safely.   You can't beat the durability and the compact size of the Telesteps ladder.   It is a must have for any tradesperson or homeowner.  Looking forward to expanding my Telesteps ladder lineup.  

Ryan Cairney, Cairney Homes
This is my go-to ladder. It's compact so I am able to carry it with me all the time. It's light but sturdy and I have no concerns about using it in any number of applications. This is a quality product that is helping me reach new heights!

Nick Romanchuk, Tool Savvy Handyman