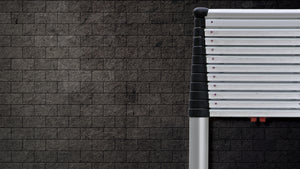 TELESCOPIC EXTENSION LADDERS
The ONLY Ladder You Will Ever Need!
A TELESTEPS LADDER FOR EVERYONE
HOMEOWNERS
The E-Series is perfect for use around the home and strong enough for light industrial. Rated as a Type 1 ladder with 250lbs weight rating. It has narrow steps and can be used from both sides. Get multiple heights with one ladder. Easy to use, easy to carry, easy to store! The only tool you will use every season.
PROFESSIONALS
The EP Pro Step Series are Type 1A ladders, rated 300 lbs. They feature the wide Pro-Step, for professional use. The steps are a comfortable at 3 5/8" wide, ribbed for grip and angled at 75% so the Contractors feet are always flat and level on the rung of the ladder. Easy and light weight to use.
TACTICAL
The1600ET is our black tactical model and is Type 1A rated for 300 lbs. It weighs only 23 lbs and closes to a compact size. This model was original built for the Military and Police S.W.A.T. teams. It can be climbed from both sides of the ladder, critical in emergency situations.
WATCH OUR NEWEST
PRODUCT VIDEOS
EASY TO USE, EASY TO CARRY, EASY TO STORE
INNOVATION AT IT'S BEST
AWARD WINNING PRODUCTS
Telesteps Ladders are the world's most innovative, versatile and reliable ladders on the market. Telesteps Engineered Climbing products are designed to be strong and are manufactured with aircraft grade Aluminum alloys to make them light and easier to move around.
Telesteps has been trusted by the US Military, Paramilitary and Police S.W.A.T for over a decade.
TELESCOPIC
EXTENSION LADDERS
Telesteps ladders represent a revolutionary breakthrough in ladder design and technology. They are the best quality and safest on the market made from the finest materials including Aircraft Grade Aluminum. They are EASY TO CARRY, EASY TO USE, EASY TO STORE. Telesteps ladders are used in many channels: Construction, Solar, RV, Law Enforcement/Tactical, Military, Government Agencies, Homeowners, Inspectors, Safety, Security, Farm/Ag, Building Maintenance, Hunters, Industrial, Installers, Pest Control and many more.
Testimonials
It's so lightweight and easy to carry around. I use it on all of our 2nd level decks we build.  The one touch release, lowers the ladder at a speed where you never worry about pinching your fingers.

Author's naKris Wetzstein, Higher Ground me
I love the mobility of Telesteps.  I can open at different lengths from about 3ft to 16ft in a moments notice.  I also love how intuitive it is to open and close…so much better than any ladder on the market!

Kiel Russell, Russell Construction and Renovation